Mantella Mixtape - 2xTape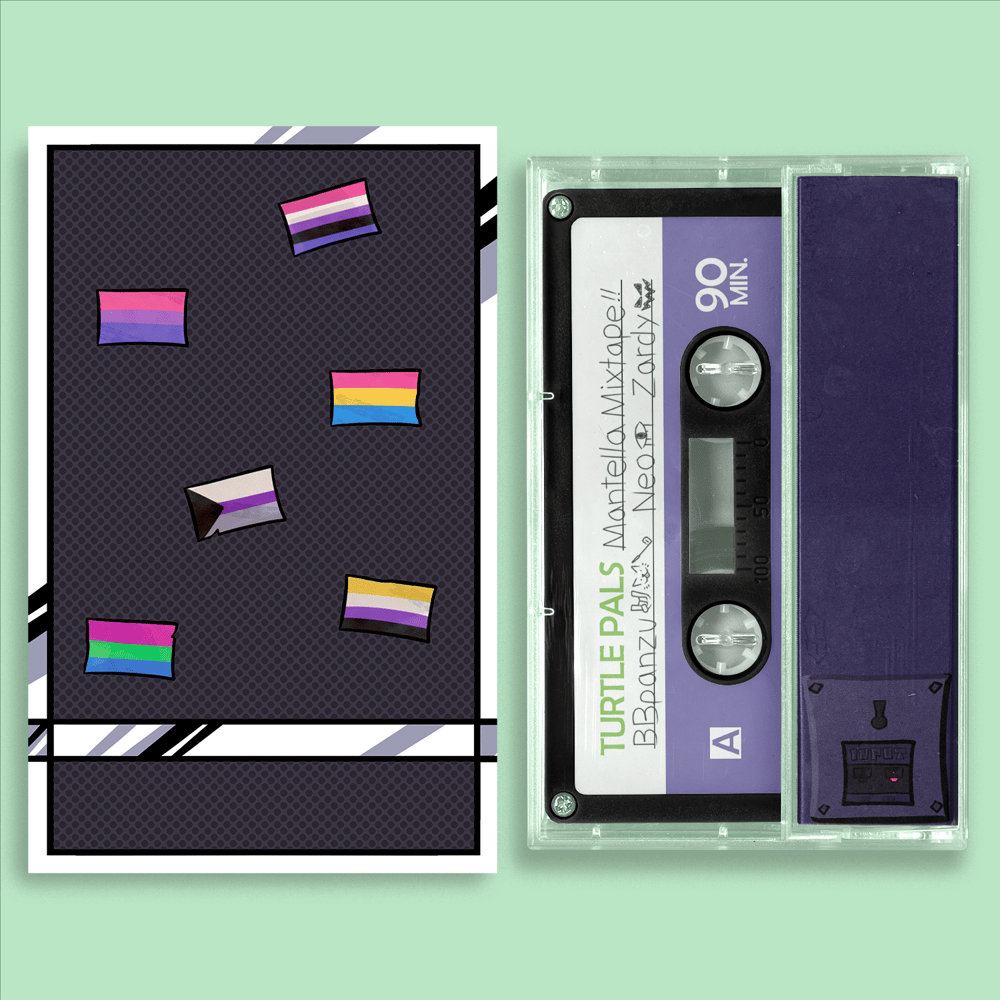 Introducing, MANTELLA MIXTAPE! This FNF mod OST compilation album has been lovingly handcrafted and curated to celebrate the FNF community! Because of how big it is, this release is a 2xTape release! All profits from this project are being donated to the Trevor Project, a non profit dedicated to suicide prevention and crisis intervention for LGBTQ+ youth.
Mantella Mixtape is the first of our releases to receive lower international shipping, courtesy of our friends over at Deathlance Records!
This release is going to be one of our few releases that we plan to NEVER repress.
Thank you all so much for the support, this means the world to us that you have supported us for so long!
Tracklist:
Side A
Vs. Carol
Carol Roll - BBpanzu
Hellroll - BBpanzu
Golf - BBpanzu
Vs. Momi
Momi-Roll - BBpanzu
Nazel - BBpanzu
Neko - BBpanzu
Vs. Sunday
Valentine - BBpanzu
BI-NB - BBpanzu
Marx - BBpanzu
Madness Cover - BBpanzu
NEO
Freaky Menu - JellyFish!
Dad Battle - JellyFish!
South - JellyFish!
Illusion - JellyFish!
Philly Nice - JellyFish!
Satin Panties - JellyFish!
Hallucination - JellyFish!
Thorns - JellyFish!
Vs. Zardy
Foolhardy - Rozebud
Bushwhack - Rozebud
Side B
Vs. Monika
High School Conflict - FruityDaLei
Bara No Yume - Kallionic
Your Demise - FruityDaLei
Doki Doki Takeover
Rain Clouds - Stardust Tunes
My Sweets - ClemO
Baka - Starrie_Blue ft. FruityDaLei
Deep Breaths - Saruky
Reconciliation - HighPoweredArt
Poems and Thorns - Saruky
Epiphany - Matt$ ft. FruityDaLei
.exe
Too Slow - MarStarBro
You Can't Run - MarStarBro
Endless - MarStarBro
Cycles - Vania ft. Uptaunt
Sunshine - MarStarBro
Fatality - Saster
Chaos - Jacaris
Side C
Salty's Sunday Night
Best Girl - Tsuraran
Opheebop - Tsuraran
Salty's Sunday Night Peppered
Strict Love - Tsuraran
Friday Night Foundation
Recontainment - Tsuraran
Vivisection - Tsuraran
Playtime - Tsuraran
Sunday Night Prom
Daughter Complex - Tsuraran
GOD EATER
Eruption - SrPerez
Kaio-Ken - SrPerez
Blast - SrPerez
Super Saiyan - SrPerez
GOD EATER- SrPerez
Vs. Cyrix
Assembly - Matt$
Voltage - Matt$
Integer Overflow - Matt$
SYSTEM CRASH - Matt$
Side D
Vs. KadeDev
Cough - KadeDev
Jumpin' - KadeDev
Banger - KadeDev
Finale - KadeDev
Happy - KadeDev
Vs. Imposter
Sussus Moogus - Adam McHummus
Lights Down - Rareblin
Reactor - Adam McHummus
Ejected - Adam McHummus
Sus Bus - Saruky
Rivals - Keoni
Chewmate - Moonmistt
Danger - Rareblin
Date Week
Whitroll - BBpanzu
Perfume - BBpanzu
Heartbass - BBpanzu
Date Week Anthem - BBpanzu ft. The8BitDrummer
"Mantella are a prominent genus of aposematic frogs in the family Mantellidae, endemic to the island of Madagascar. The members of the genus are diurnal and terrestrial in behaviour, exhibiting bright colouration or cryptic markings which are species specific." ~Wikipedia, https://en.wikipedia.org/wiki/Mantella