Compact Disc Club #1: Hotline 024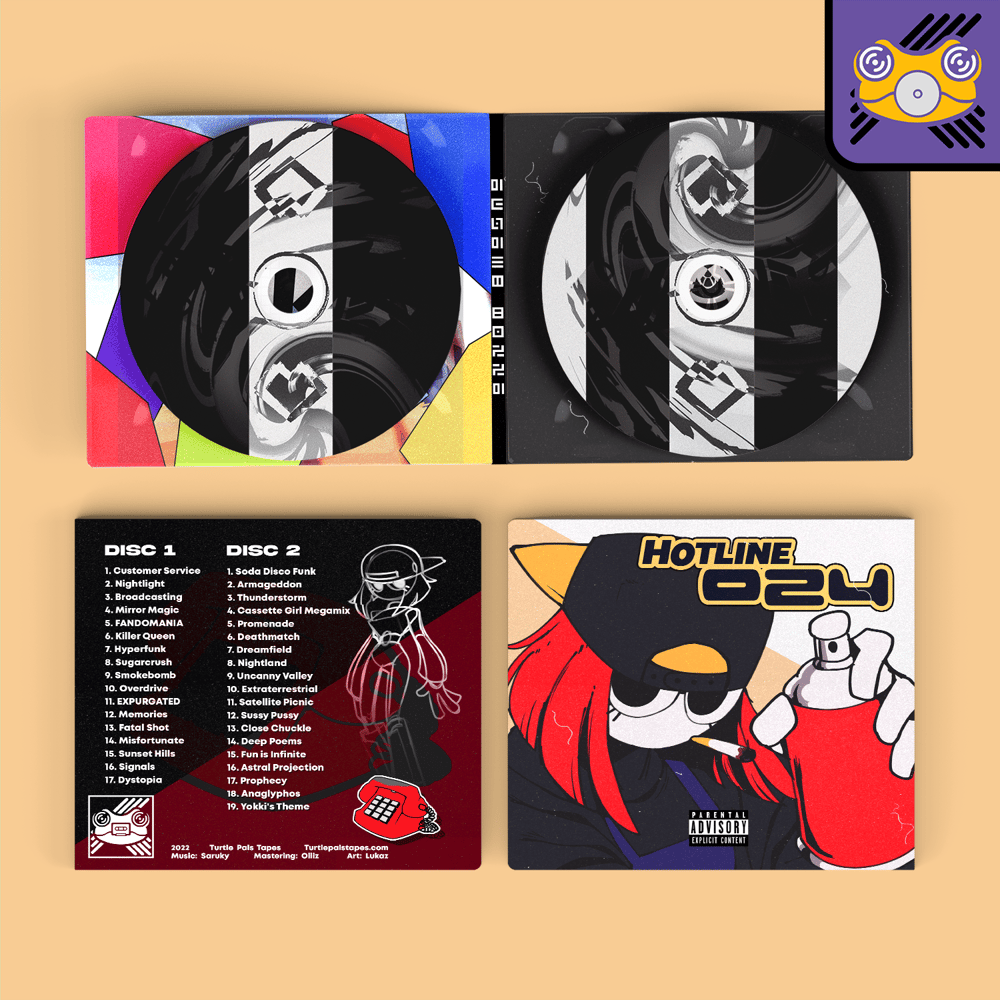 Coming to the Compact Disc Club is Hotline 024, this massive 2xCD album by Saruky is an incredible passion project with hit after hit. Across two discs, this includes every song from the mod as well as the soundtrack to the Sunset Hills series. No censorship for any of the songs' titles this time either! Hell yeah!
Pre orders are open until August 5th, 2022. The listed price is an early bird price for the CDC, extra CDs will be put up on the store for our normal CD price, $16.00.
What is the Compact Disc Club?
The Compact Disc Club is a side catalog of releases separate from our main catalog. These are lower cost no frills CD releases for FNF mods. This allows us to still release FNF music without saturating our main catalog. All releases for a "season" will be announced all at the same time!
Track list:
DISC 1:
1. Customer Service (Main Theme)
2. Nightlight (Menu Music)
3. Broadcasting
4. Mirror Magic
5. FANDOMANIA
6. Killer Queen
7. Hyperfunk
8. Sugarcrush
9. Smokebomb
10. Overdrive
11. EXPURGATED
12. Memories (Pause Theme)
13. Fatal Shot (Death Theme)
14. Misfortunate (Credits Theme)
15. Sunset Hills
16. Signals
17. Dystopia
DISC 2:
1. Soda Disco Funk
2. Armageddon
3. Thunderstorm
4. Cassette Girl Megamix
5. Promenade
6. Deathmatch
7. Dreamfield
8. Nightland
9. Uncanny Valley
10. Extraterrestrial
11. Satellite Picnic
12. Sussy Pussy
13. Close Chuckle
14. Deep Poems
15. Fun is Infinite
16. Astral Projection
17. Prophecy
18. Anaglyphos
19. Yokki's Theme